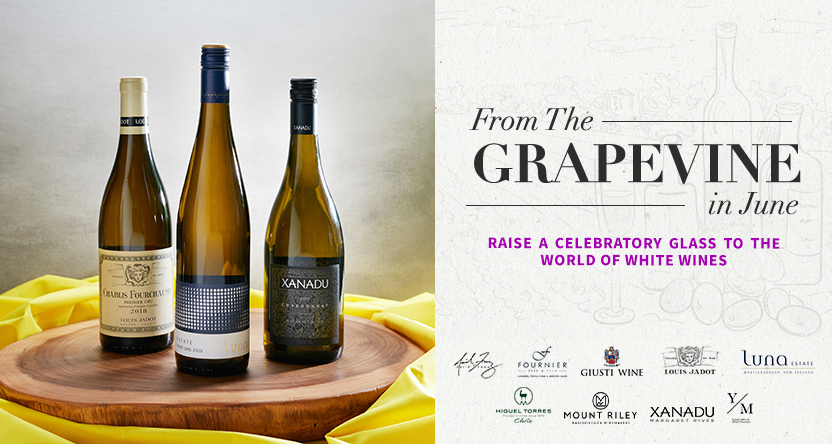 From the Grapevine in June
A new month, a new chance to open your palate to fresh flavour experiences.
This time round, we're raising a celebratory glass to the world of white wines. From Sauvignon Blanc and Moscato to Pinot Grigo and Chardonnay – June commemorates the delightful quaff of choice for sun-drenched summers.
Starting with wines of Chardonnay varietal, there's Louis Jadot Chablis 1er Fourchaume. Grown on unique Kimmeridgean soil in continental climatic conditions, Chablis vines produce grapes that have a distinct sophistication, and are ripe with characters of clean citrus fruits and delicate acidity. Great to savour with live oysters, white fish or any seafood.

Xanadu Chardonnay, on the other hand, features grapes from the Chardonnay clone, Gingin, whose vines are predominantly grown on gravelly loam in Margaret River. Distinctively smaller, Gingin Chardonnay berries deliver more concentrated flavours – giving the resulting wine a vibrant acidity with a lively impression.
Next up, we have the Luna Pinot Gris 2019. Normally harvested a little later to allow further ripening, Pinot Gris grapes have a touch more sugar and flavours. Wines made with this grape varietal offer aromatic notes of pear, thyme – and truffle, at times - with a gentle yet lingering taste of fruitiness. Pairs well with soft cheeses, sausages, chicken dishes and even our favourite local zi char dish of sweet and sour pork.
Often mistaken for Pinot Gris is the Pinot Grigio. Racy, leaner and aerial, it gives a refreshing, thirst quenching impression, and pairs perfectly with barbeques, appetisers, seafood dishes and cold cuts. A good option to try would be the Giusti Pinot Grigio DOC Venezie Longheri – intense and fruity on the nose, persistently flavoursome on the palate.
Now that you've discovered our favourites, it's time to savour the white wines of the world today – one sip at a time.
Till June 30th, enjoy the following selection of white wines - and more - at our wine counter at 15% off for takeaway:
Louis Jadot Chablis 1er Cru Fourchaume
Mount Riley Seventeen Valley Sauvignon Blanc
Giusti Pinot Grigio DOC Venezie Longheri
David Franz Georgie's Walk Cabernet Sauvignon
Miguel Torres Cordillera Syrah
Yannick Alleno & Michel Chapoutier Saint-Joseph "Croix De Chabot" Rouge
Fournier Pere & Fils Sancerre L'ancienne Vigne Rouge
Louis Jadot Couvent Des Jacobins Bourgogne Pinot Noir