Solli
è

s Fig, France

Located in the region of Var, Provence, the basin of Solliès is a small area watered by the Gapeau River flowing peacefully between Toulon and Hyères. Here, Solliès figs are grown on fertile soil and carefully harvested for centuries by local labour. Solliès figs are the only AOC (appellation d'origine controlée) certified figs in France—meaning that the French government guarantees its origin. The AOC obtained in 2006 brings together hundreds of producers planting over an area of about 120 hectares.

The Solliès fig is a dense and firm fruit shaped like a teardrop with a diameter of approximately 40 to 70 mm. Its dark purplish to black, ribbed exterior hides a thin and pale green receptacle that holds fleshy pulp resembling luscious strawberry jam with many thin beige seeds. Reflecting the terroir of the area, the plump Solliès figs offer vegetal aromas of watermelon and other red fruits, as well as lovely floral notes. On the palate, it has a characteristic tangy and sweet balance. The bulbous fruit contains a sugar Brix level of 14 to 26 degrees. As such, the Solliès fig is the perfect foil to seared foie gras, game meat and pork. Drizzle balsamic vinegar, wrap with slices of prosciutto, roast it with Roquefort, serve it with ham and picnic cheeses as hors d'oeuvre, or bake it into crumbly tarts and dollop over vanilla ice cream.

Available at Culina Dempsey Gourmet Store: Mid Aug – October

Retail price: Kindly approach our gourmet store Manager for more details.


Summer Fruits, France
Whether you prefer apricots, peaches, nectarines, or cherries, nothing says summer (June to September) quite like the sweet, juicy flavours of mouthwatering stone fruits. France may not be the biggest producer in Europe for stone fruits but the varietals it offers are second to none. From the French countryside come breeds like the rich, golden orange Nancy apricots or the Burlat cherries.

Burlat cherries are native French cherries that are similar to medium-sized California Bing cherries in terms of taste and appearance but they are generally softer. It's easy to see why Burlat cherry is one of the most popular cherry cultivars in France: the hardy Burlat tree has a high crop yield and its glossy, heart-shaped fruits are super sweet instead of pukeringly tart, thus making them easy to like. Cherries are extremely versatile and are the perfect ingredients to work into a flambéed cherry jubilee, clafoutis, and cobblers.

With their sweet taste and juicy flesh, peaches and nectarines epitomises summer. They are the same species, even though they are regarded commercially as different fruits. In contrast to peaches, whose fruits present the characteristic fuzz on the skin, nectarines are fuzz-free. You don't need to do much with luscious peaches and nectarines, simply cooked to caramelised gooiness and serve with ice cream.

For stone fruits, pies are just the beginning. These juicy cherries, apricots, nectarines, and peaches lend themselves well to baked crumbles, on top of decadent tarts, as a sweet accompaniment in salads, icy popsicles, and cocktails. You can also cooked down the fruits to a jam and scoop on top of waffles and ice cream. Stone fruits are easy to work with— you'll just need to pit them before using them in a variety of dishes.


Available at Culina Dempsey Gourmet Store:
July till September
Retail price: Kindly approach our gourmet store Manager for more details.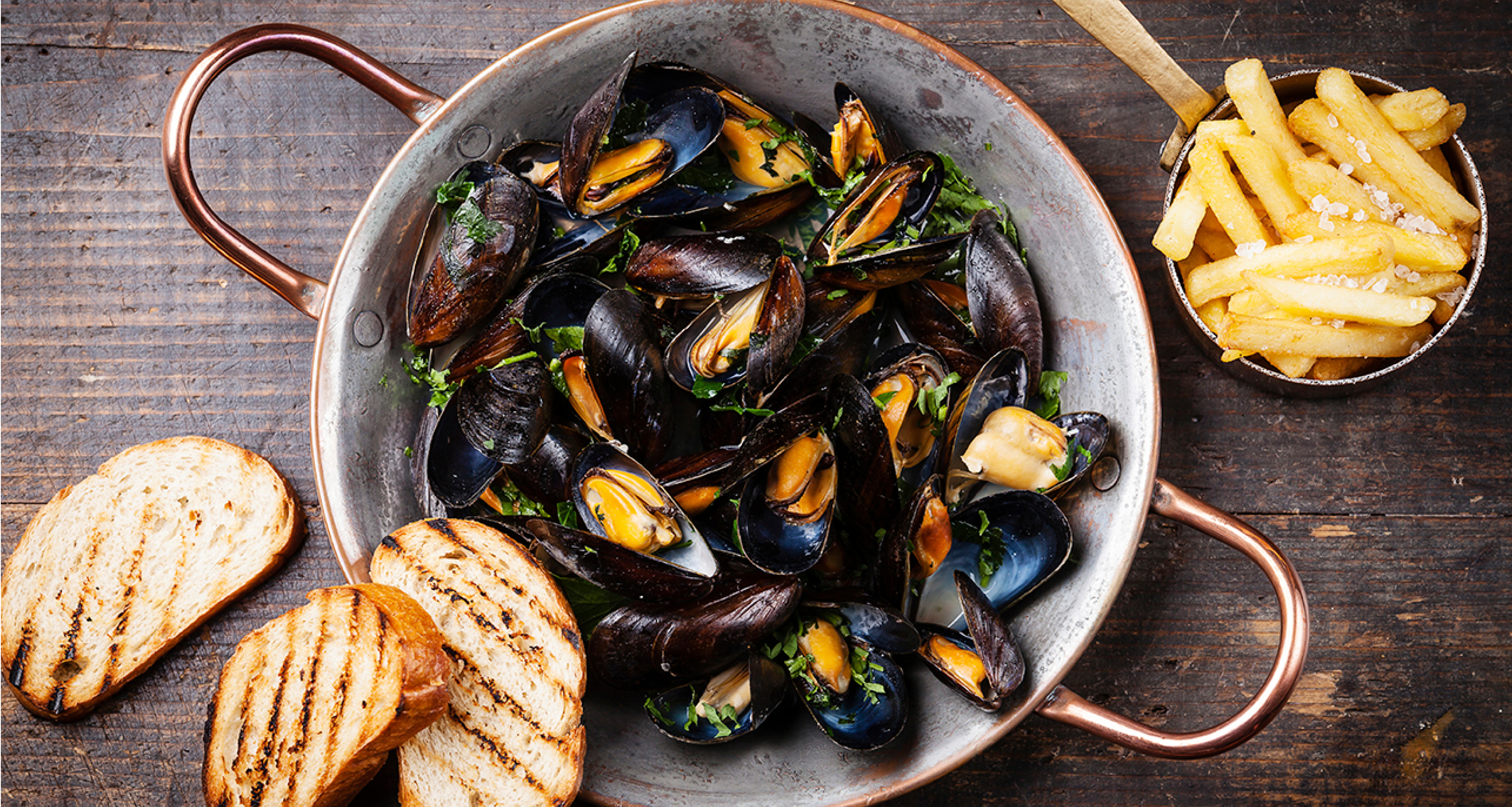 Bouchot Mussels, France
Bouchot moules is the only mussel in France that has the coveted Appellation d'origine contrôlée (AOC) designation. Given to food whose characteristics are uniquely related to its place of origin, these mussels are considered a luxury ingredient in France, and other parts of Europe.
They are harvested between July and January in France's Mont St Michel Bay where the water spans the borders of Brittany and Normandy. The bivalves grow on wooden pillars (bouchot) anchored into the seabed. At high tide, they thrive underwater, while at low tide, they are exposed to the salty ocean air, hence their delicious briny flavour. The small to medium-sized mussels have plump and firm orange-yellow flesh. Simply cook them with white wine, chopped garlic and parsley, and serve with French fries.
Available at Culina Dempsey Gourmet Store:
End July 2017 till January 2018
Retail price: Kindly approach our gourmet store Manager for more details.


Gariguette Strawberry, France
This delicious spring strawberry available between March and June is an old Provençal variety, much-loved and prized by leading chefs for its wonderful scent and outstanding aromatic flavour.

The small, bright red berries with a conical and elongated shape are sweet, soft, delicate and juicy, with a lovely perfume. Its flavour is reminiscent of wild strawberries. The product is highly prized among top chefs. For a simple dessert, dress the strawberries with a drizzle of balsamic vinegar or serve them with sweetened whipped cream. Otherwise, simply enjoy them with chilled champagne. If there's excess, you can make a homemade strawberry jam.

Available at Culina Dempsey Gourmet Store:
March 2017 till July 2017
Retail price: $5.85 per 100g